About the 12 project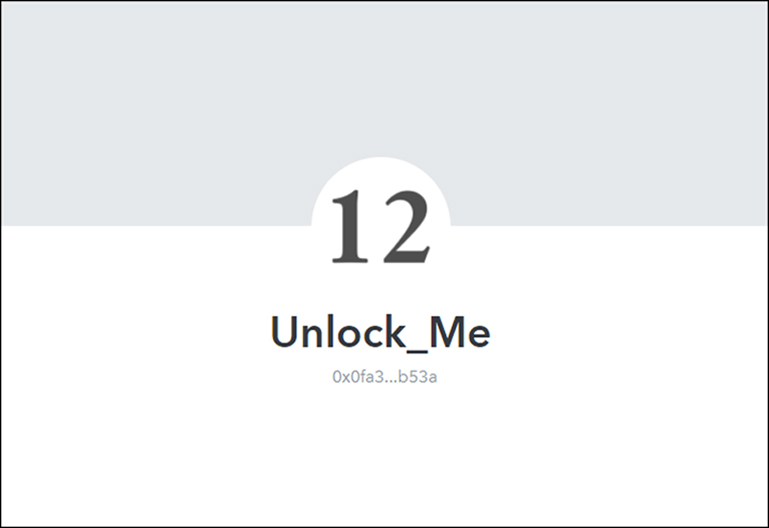 12 artists. 12 NFTs in a wallet. 12 words to unlock crypto-literature.
Twelve is a cryptoliterature project, conceived by Kalen Iwamoto, featuring 12 cryptowriters and cryptoartists. Each of the 12 artists have created an NFT that is locked away in a wallet. There is only one way to unlock the wallet: solve the riddles in the unlockable content of a poem NFT, released on April 29 at 8PM CET. Whoever cracks the riddles first will uncover the seed phrase that opens the cryptoliterature vault and can walk away with everything inside.
Visit the Twelve exhibition in Decentraland, built by paleh0rs3: visit.dcl.eth.link
Contributing cryptowriters and artists:
Anonymous Nobody
aurèce vettier
Brickwall
paleh0rs3 (formerly Cryptonovelist)
Dorkholm
Ric Galbraith
James Yu
Justin Tagg (Devoid)
Nahiko
Osirène
simianAmber
TheKZA
What is cryptoliterature?
This collection doesn't seek to answer this question so much as explore its possibilities. The 12 NFTs in this project exemplify the breadth of experimentation happening in cryptoliterature, which runs the gamut from the highly conceptual (simianAmber) to the comical (Dorkholm) and, in the case of paleh0rs3, even a combination of the two. In this collection, there are beautiful, amusing, and unexpected texts written in partnership with computers and AI (James Yu, aurèce vettier, paleh0rs3, Osirène); existential questions posed through the brevity of microfiction (Justin Tagg); unique and varied ways of bringing together the word and the image (Anonymous Nobody, Brickwall, TheKZA, Galbraith); and a visual interpretation of the "Twelve" poem (Nahiko).
Cryptoliterature can be more than tokenizing a piece of text; it can be experimentations around writing and the blockchain that give rise to new experiences in reading, writing and the connection between readers and writers.
About Kalen Iwamoto
Kalen Iwamoto is a cryptowriter exploring the possibilities of literature on the blockchain. Her ongoing micro-autofiction series, "Few Understand", is a chain of NFT "blocks" that are linked together by a sentence, in homage to the blockchain. She also experiments and plays with writing in her "Performance writing screenshot" series, in which she appropriates spaces in the crypto ecosystem and uses them as a canvas for new forms of writing.
Why Decentraland?
Although we could have stopped at twelve.wtf, the allure of the metaverse was too strong. We wanted to collectively push on what it means to not only create cryptoliterature, but to create a unique viewing experience that encompasses it. By leveraging paleh0rs3's Decentraland real estate, we have created an immersive, social place where anyone can stumble upon our twelve pieces of cryptoliterature that pierce the virtual skyline. We think that this is just the beginning of the intersection of metaversal galleries and cryptoliterature.
View the 12 gallery in Decentraland: visit.dcl.eth.link
Website creator: James Yu
Website design: Julien Silvano
Decentraland gallery creator: paleh0rs3